RT @jaketapper: There's no way Jews are behind that Mohammed movie. Horrible production value.

— Ben Smith (@BuzzFeedBen) September 12, 2012
Editor's note: After this post was published, Jake Tapper sent us a direct message asking us to point out that he is Jewish. He said that he deleted the tweet because "humorless idiots missed the point of the joke."
=======================================================================================
"Innocence of Muslims," the independent film that some allege to have sparked the deadly riots in Egypt and Libya yesterday, is to many Western eyes, just plain bad filmmaking. But in the wake of the U.S. Embassy's statement about "respect for religious beliefs," we're pretty sure we know why this tweet from ABC's Jake Tapper didn't last long.
@TwitchyTeam Jake Tapper deleted this tweet. Wonder Why? pic.twitter.com/OhOAV9FX
— The Mad Hessian (@TheMadHessian) September 12, 2012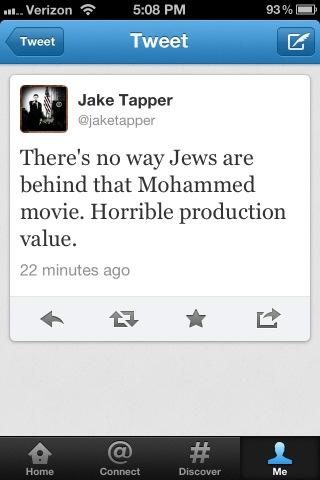 @BuzzFeedBen @jaketapper Did Jake tweet that? I can't find it on his feed.
— Daniel Solzman (@dsolzman) September 12, 2012
@dsolzman yeah i deleted it bc some people claimed offense. was just supposed to make ppl laugh.
— Jake Tapper (@jaketapper) September 12, 2012
@jaketapper Thanks for the response. Of course, being an MOT and an aspiring comedian, I got the joke. Shanah tovah.
— Daniel Solzman (@dsolzman) September 12, 2012
@chrislhayes @BuzzFeedBen @jaketapper Not remotely funny.
— Chernynkaya (@Chernynkaya) September 12, 2012
Funny? Not really. However, following yesterday's events, it's nice to see freedom of speech (and acceptance of consequences) play out in words and not violence.
Update:
Twitchy would like to note that some of our editors found the joke giggle-worthy and undeserving of outrage.
Update:
The plot thickens: Filmmaker 'Sam Bacile,' blamed for embassy attacks, does not exist
Read more: http://twitchy.com/2012/09/12/jake-tapper-jokes-about-anti-muslim-films-lack-of-jewish-production-values/